APPENZELLER INT'L
​Freedom through Frisbees
Ultimate, or ultimate frisbee, a game that has its origins in the counterculture movement of the 1960s and 1970s in the Western world, has found its way into the daily life of Appenzeller students. How exactly is this seemingly simple game a product of the anti-establishment rhetoric of the latter half of the 20th century? The answer is in the rules of the game itself. Unlike other team sports, ultimate frisbee has no referees, making it a self-directed game. The game heavily depends on principles of fair play and the trustworthiness of the players.
This American game created in the 60s has much in common with the spirit of Yonsei University RC (Residential College) self-directed activities. After all, a fair amount of Appenzeller students, both past and present, run self-directed activities each semester. And "Ultimate Frisbee" is just one of them! This self-directed activity is the product of an Appenzeller House RC student's great interest in a game that is often overshadowed by more mainstream sports. Every Wednesday students gather in the grass field near dormitory E to practice their frisbee skills and compete with each other. From beginners to professional players, everybody is welcome to this highly competitive and thrilling game of throwing and catching frisbee discs. There are no referees and no RAs (Residential Assistants) to watch over the implementation of the activity; pure love for sports and competitiveness drives the students to show up and play ultimate frisbee for an hour each week.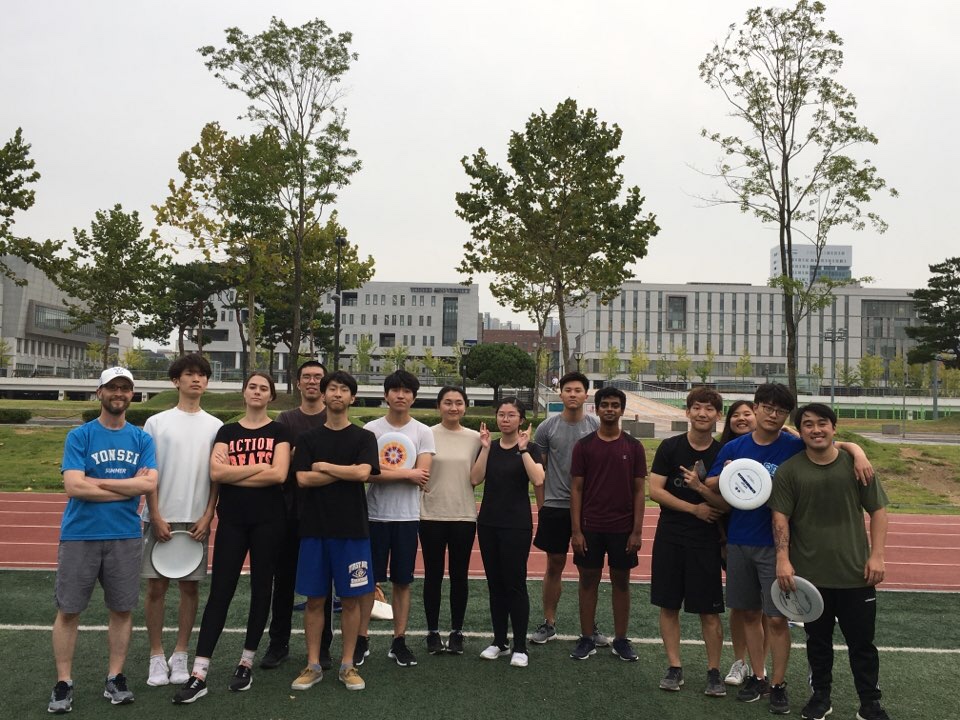 [Photo 1] Group Photo
This spirit of autonomy guides all self-directed activities throughout the semester. Students, having interests of their own, want to combine their everyday life with RC programs, and so they come up with events that are planned, executed, and regulated all by themselves. "Ultimate Frisbee" is one of the many activities that are completely run by students. Appenzeller House highly encourages such manifestation of leadership and independence, as, above all, educating young talent from all over the world and aiding them in cultivating their many strengths is what our house values most. "Ultimate Frisbee" will be continuing to hold weekly sessions until the end of the semester, and we hope that many Appenzeller students can join us and spread our love for this sport.
By 국제학 18 Heghine GrigoryanView 133